News & Events
Message from the President
The Cochise County Historical Society occasionally sponsors historical field trips and guest speakers as a service to all of those interested in learning more about the rich history of our county. In the past, this was achieved by inserting paper notices inside the journals prior to their being mailed out. As one can imagine, this particular method had manys drawbacks. Therefore, in order to better inform you of these upcoming events, it was determined at a recent board meeting that notification by email would be the most efficient method of contacting members. Upcoming events could be publicized much quicker through emails than the way we formerly did it.
For this reason, we are asking all members who would like to be notified of such events, no matter what state you may live in, to please send your email address to board member Margaret Bemis at:
Your email address will not be given or sold to any other group or organization. We hope that all of our members will agree that emailing is the most efficient method of notifying them regarding upcoming special event.
---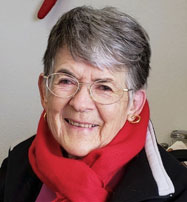 It is with a heavy heart that I announce the passing of Elizabeth Ames, long-time board member and former treasurer of the Cochise County Historical Society. Liz, a life-long Douglas resident, died Wednesday, February 5, 2020 at Haven of Douglas at the age of 89.
Liz was the third child born to Ralph and Elizabeth Williams. She graduated from Loretto Catholic School, Douglas High School and the University of Arizona. She married Howard E. Ames Jr on February 14, 1953. She is preceded in death by her husband, parents, in laws, brother and younger sister. Survivors include her older sister, 7 children, 14 grandchildren and 24 great grandchildren.
Liz was involved in the community she loved. She served as Douglas Mayor, City Councilwoman, President of the St Vincent de Paul Society, was a board member of Immaculate Conception Catholic Church, Douglas ARC, and treasurer of the Cochise County Historical Society. Liz was a 71 year member of Kappa Kappa Gamma Fraternity, the P.E.O. Sisterhood, and the Ocotillo Social Club. She was recognized as "Lady of the Year" and received recognition for her service in the community by many other organizations.
Mass of Christian Burial was held on Saturday, February 15, at 10:30 at Immaculate Conception Church. A private family internment followed at Calvary Cemetery. The family then received friends and loved ones at the Gadsden Hotel beginning at 12 noon.
Members of the Cochise County Historical Society were honored with her presence at the society's most recent Annual Meeting and Banquet, held at the Gadsden Hotel on December 1, 2019.
The family requests donations be made in Liz's memory to several charities; among them is the Cochise County Historical Society, P.O. Box 818 Douglas, AZ 85608.
Sincerely,
Bill Cavaliere
President